Way late with football thoughts this week due to Larry Johnson and the baseball playoffs, so it's "The Afternoon Before." I realize I'm beating a dead horse with the head injury thing, but as I was on this a few weeks back, I want to discuss this week, when it all came to a head, pun intended.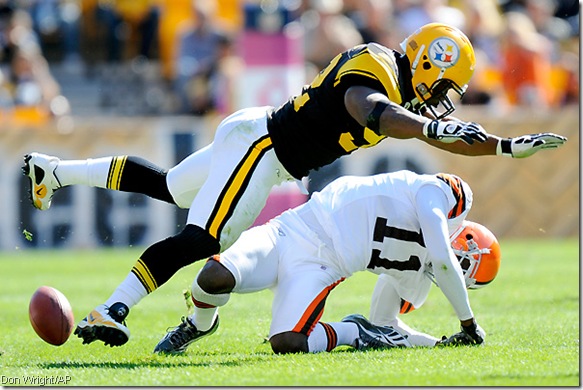 I remember way back in 1996, watching a rookie-year Zach Thomas' first game for the Dolphins, when New England's Shawn Jefferson came on a reverse and Thomas ran sideline-to-sideline, lowered his shoulder and leveled him, knocking him unconscious.
I still remember my reaction: Shock and horror at the brutality of the sport.
Except for the fact that it wasn't my reaction at all. I told anyone who'd listen that it was obvious from his very first hit that Thomas was going to be a special player.
Now I was a senior in high school back then, so my mentality has changed quite a bit, though Thomas still views that hit as a necessary evil. Here's his quote back in May at his retirement press conference:
I think I gave a concussion that day, and I am not trying to brag, because I got my own, but I gave some too. I am not trying to boast over that, because you never like to see anyone hurt and you never try to hurt anybody, but I felt like that was making a statement saying, 'Hey here is [No.] 54.'
Sure, but this is the NFL that has been marketed to us, and it's not that it wasn't a problem before, it's just that everyone is now realizing that it is one.
Concussions have always existed in the NFL. How could they not? Blasting someone with the force of a car wreck is part of the game, and big hitters in the secondary or linebacker corps were celebrated as having a special talent.
Remember all the concussions Steve Young and Troy Aikman had? I suspect those were regarded almost as signs of weakness, as if there was some way that a player could become tough enough to be immune to his brain bouncing off his skull. Young and Aikman were probably viewed as "concussion prone."
But – and feel free to correct me if I'm wrong – I don't recall concussions having been taken nearly as seriously back in the day. I doubt you'd see many players sitting out games with concussions. Thigh contusion, brain injury, whatever – questionable for Sunday, likely to play.
Not to mention, why isn't steroids a major talking point in football the way it has been in baseball? I discussed this back when Brian Cushing was suspended; I suspect a vast majority of the sport is using performance-enhancing drugs. Players are a lot bigger than they used to be, and yet they're also faster than ever. If baseball players know how to beat tests, so do their football counterparts. And yet so much more of a big deal is made with this in baseball.
Meanwhile, the scary part is that the potential ramifications of steroids are so much greater, considering the nature of the physical contact players make with each other. The NFL is lucky Rodney Harrison, who admitted to being on HGH, never killed anyone with one of his medically enhanced hits. (What is it with guys named Harrison, anyway?)
The horrible "jacked up" segments of NFL highlight shows have been replaced in part by Real Sports segments describing the long-term effects of playing with repeated concussions, and it's not pretty. Just like in baseball teams have tried to limit pitch counts in an effort to stem arm injuries, NFL teams are more cautious than ever post-concussion, and rightfully so.
The fact that this has escalated into an issue should not be a surprise to the League, which has seen its popularity skyrocket through two things: testosterone and fantasy football. Regarding the former, the vehement defenses of brutal hits articulated by James Harrison and Brian Urlacher most likely mirror the thoughts of many football fans, who view the massive hits as inherent to their enjoyment of the sport.
Never mind that it's a lot easier to justify massive hits when you're not the one taking them. The thinking here is that if the players can take the big hits in the latest Madden game, they can surely take them during the real thing. "Suck it up," and such.
This aspect of football is what I've always found somewhat off-putting. I appreciate the cultural significance of the game in American culture, but it's difficult to embrace the nature of it as a bloodsport. I think if you go to most sports bars, which I rarely do anymore, you would find NFL Sundays attract their share of guys who came out for the UFC fights the night before, and they don't want James Harrison to hold anything back.
The NFL has sold videos with nothing but big hits, and as I mentioned, ESPN has had portions of their shows devoted to showing the latest head-scrambling attempted manslaughters. That's why their vocal concern is so lame. Everyone's been eating off cultivating the sport for years as one in which you can see rule-governed brutality.
Meanwhile, teams can cut an injured guy at the drop of a hat and be off the hook for paying him. Former players limp around slurring their speech for the rest of their lives after they retire, and the NFL has no pension system. (Those guys should "suck it up," I guess?)
Like I said, none of what I'm saying here constitutes anything anyone a lot of other people aren't saying. I just have to shake my head at how hollow it is that the NFL is now going to attempt to address something that they played a large role in creating in the first place.
At the risk of being dated, it's sort of like O.J. going out to find the real killer.
*****
Here's my personal Top 10 this week.
1. Jets (5-1) (LW: 1) – Takes advantage of gift interference call. Confidence at a high.
2. Steelers (4-1) (LW: 2) – After shaky start, Big Ben looks stellar. Maybe best all-around team.
3. Ravens (4-2) (LW: 3) – I still dig 'em. They should have beat Pats on road. Will kill Bills.
4. Saints (4-2) (LW: 7) – Chris Ivory a needed tonic for beat-up run game.
5. Giants (4-2) (LW: 6) – Ahmad Bradshaw very difficult to bring down for his size.
6. Patriots (4-1) (LW: 9) – Patriots again a popgun offense, but it's worked in the past.
7. Colts (4-2) (LW: 5) – System makes them solid, but injuries to Collie, Clark worry me.
8. Falcons (4-2) (LW: 4) – Upcoming schedule looks favorable. One touchdown for Turner.
9. Eagles (4-2) (LW: NR) – Losing Desean Jackson hurts, but Kolb is who they thought he was.
10. Titans (4-2) (LW: NR) – Solid 'D', best running back. Familiar formula from 2 years ago.
*****
Here are 3 picks for Week 6.
LW: 2-1 (Hit on Rams, Titans; missed Cowboys)
Season: 10-5.
1. Chiefs –4.5 vs. Jaguars – Jags mediocre vs. run, Chiefs first in NFL with 164.6 YPG.
2. Saints (-13) vs. Browns – Hard not to see Cleveland blown out in New Orleans.
3. Patriots (+2.5) at Chargers – Outside of Rivers, I really just don't like San Diego.