One thing I've learned after about a year of using Twitter is that it's a refuge for people with way too much knowledge about stuff that nobody else cares very much about. As such, I've felt right at home sharing my views on St. Patrick high school basketball and Yelawolf mixtapes with a perfectly non-captive audience.
But every once in a while, the nonsense I know pays off — like a little while back, when I ended up somewhat randomly with an autographed jersey of Andre Iguodala.
I follow a Twitter account called Foot Locker Unlocked, which helps keep me up to date on the latest basketball sneaker releases at House of Hoops stores and online. While following them is good for my collection, it's pretty lousy for my bank account, as sneakers I never knew existed suddenly end up on my want list.
Recently, I was working on my computer when FL Unlocked started running a trivia contest, giving away autographed jerseys supplied to them by video game company 2K Sports.
I knew the answers to questions for signed Derrick Rose, Josh Smith and Rajon Rondo jerseys — all players I like a whole lot — but so did other people.
Foot Locker then asked what sneaker Andre Iguodala wore during his NBA rookie photoshoot back in 2004. I was pretty sure it was the Jordan XII Taxi lows, one of my favorite sneakers. And I vaguely remembered seeing pictures of Iguodala wearing them, which stuck with me since I already had a pair.
Here's the correct ans: RT @SportsAngle: @FLUnlocked One of my all-time personal favorites, Jordan 12 Taxi Lows. http://bit.ly/dH5R0TThu Dec 16 20:02:21 via ÃœberTwitter
Foot Locker Unlocked
FLUnlocked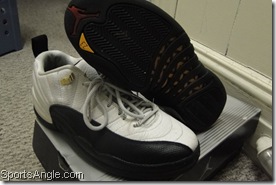 My recollection was correct, and about a week later, an Iguodala jersey showed up at my place with a silver autograph on the No. 9 on the back, and a card that read "Merry Kicksmas."
Of the four jerseys they gave away, Iguodala would have been my fourth choice, but it was still pretty neat. It was an authentic jersey with a $180 price tag, and a size 48, ensuring that it would never adorn my 5-foot-6 frame (at least outside my apartment).
Sidebar: I have a couple of authentic old-school Champion jerseys, John Stockton and rookie-year Allen Iverson, and the quality on these has definitely gone way up. The jersey is a light, breathable material, as opposed to the heavy and abrasive fabrics used on the old ones. While the quality on retro Jordans has plummeted as Nike found they can skimp on materials and still sell whatever they put out, Adidas has made great strides with these game jerseys.
Anyway, the question is, of course, what do I do with it?
I like Iguodala, I remember enjoying watching him at Arizona, but it's not like he's one of my favorites. If this were Sixers teammate Elton Brand, whom I used to occasionally eat dinner with — and once informed what player his team drafted — framing it would result in a solid centerpiece for a home office. (I don't actually have a home office, but I probably should at some point, if only to create a spot for my sports memorabilia.)
Iguodala, who is scoring under 14 points per game this year, is on the fringe of being cool, but doesn't quite get there.
He has a sort-of cool nickname, AI2, which is predicated on following brother-in-initials Allen Iverson to the Sixers. But let's be real here: Andre Iguodala is no Iverson. It can be hard to distinctly recall as Iverson mopes around Europe, but he was once pretty much the coolest thing about NBA basketball. He was the only reason to buy Reeboks once they stopped making signature models for Shaq and Shawn Kemp.

Fabolous name-checked him in the intro to his last CD — "Put the 9 on 'em, a la Iguodala — which is cool. But it's not like Iguodala earned that reference with a crazy level of play. His name is fun to say, and the fact that he wears No. 9 works with the gun reference. Considering Game already claimed Tony Romo in that Nas song, there just aren't a ton of No. 9s available. I would have suggested Jay Fiedler, but that's literally just me. Maybe Rondo, except his name doesn't rhyme with koala and Impala. Ted Williams is awesome but not current, while Gordie Howe and Bobby Hull probably aren't on Fab's radar. Dream Team Michael Jordan might have been worthwhile to work in.

Regardless, Fabolous is reasonably well respected, but far from a legend. This wasn't Jay-Z coming back like Jordan wearing the 4-5, or Nas gripping the steel like Shaquille holds a pill. (Or even Trife Da God keeping the heat blazin' like Bonzi Wells on Pretty Toney.)

Iguodala played on Team USA's gold medal-winning World Championships team, which I was a pretty big fan of. However, he was far from my favorite player on the squad, ranking behind — off the top of my head — Durant, Steph Curry, Rose, Westbrook, Odom, Kevin Love and probably others. It's not his fault; he bought into the team concept and played solid defense, both admirable traits. It's just that, despite starting all nine games, he finished tied for eighth on the team in scoring.
Iguodala's name has been connected to the Knicks in a possible trade, in which case this jersey acquires added value due to his playing for my favorite team. But since he would clearly be a consolation prize if they don't get Carmelo Anthony, who I'd obviously prefer, every time I look at the thing I'll think of how the Knicks fell short of the guy who would have taken them from a reasonably good team to a championship contender.
Besides Iguodala, the Sixers jersey itself isn't what's really good right now. Though I don't hate Nike's Oregon space suits, there's definitely nothing like simplistic old-school jerseys — the Celtics and Lakers, Yankees and Red Sox, Giants and Dodgers. This Sixers jersey is just too plain, though. If they'd kept this style through the years, fine, but they've switched it so many times that going back to this makes it more dated than retro. Some of those throwback joints Nike had Iverson in back in the early part of the decade were far superior to this.
*****
I decided to lean toward framing the jersey in order to throw it on the wall of my future office.
To me, the jersey itself is a testament that the nonsense I'm into, I'm really into. I'm not saying my particular passions are ones that anyone else would choose or anything, but I firmly believe that whatever you do, you should put your all into it. If zombie movies, Air Jordans and Spider-man comics make you what you are, you have to embrace that to the point that you can answer some ridiculously obscure trivia question.
After all, occasionally your off-beat interests can net you a signed jersey, even if it's of someone totally random whom you have no particular attachment to.
Which if you think about it, makes total sense.