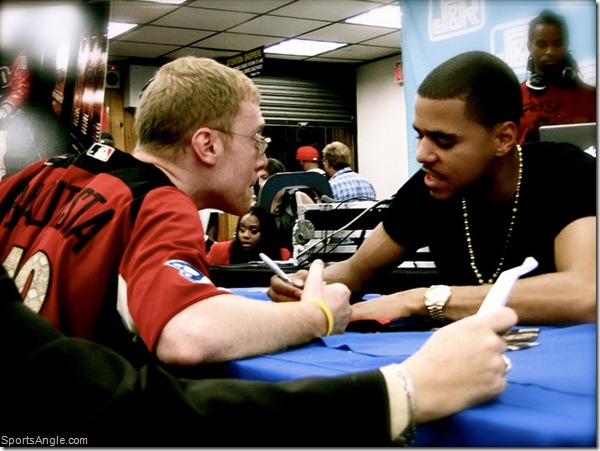 It's not often that you get to witness someone on the very day their dream is realized, but last Tuesday, I found myself face to face with J. Cole while that happened for him.
I've been following J. Cole's career for a couple of years now, ever since I downloaded his mixtape, The Warm Up, on a whim after hearing he'd been signed by Jay-Z. I admired and identified with his journey, migrating from North Carolina to St. John's to try to hit it big, not resting until he got his demo in Jay-Z's hands.
J. Cole apparently was good enough to potentially make the St. John's basketball team as a walk-on, but he thought the time commitment would get in the way of his hip-hop career. A basketball fan, he's said his favorite player is Penny Hardaway, a fine choice, and routinely compares himself to LeBron James.
(Sidebar: It says something about how much J. Cole registers with me that I still ride for him despite his strong Tar Heel leanings. Most egregiously, Cole went hard at Shane Battier on his new CD, calling him "lame," though I doubt many people would consider it such to have made $47 million thus far over the course of an NBA career.)
Regardless, The Warm Up was a breath of fresh air in that J. Cole eschewed pop and gimmickry in favor of classic lyricism. It was one of my favorite albums of 2010, and considering it was free, the price was right.
Intrigued, I made the trip to New Brunswick to see J. Cole at RutgersFest that spring. I was probably the oldest guy there, possibly the only person who knew the lyrics to his songs, definitely the only guy in a Francisco Rodriguez All-Star jersey. (What was I thinking?)
Frustrated after finishing 2010 without clearance to release his album, he put out another mixtape, Friday Night Lights, last November. I ended up listening to FNL last winter just as much as Kanye's new CD; like The Warm Up, you could easily play it all the way through without wanting to skip tracks, which is a rarity.
Jay-Z expressed in his book, Decoded, that to stay relevant, hip-hop needs to go "deeper and deeper into the biggest subjects and do it with real honesty." It's no surprise that he signed J. Cole after hearing "Lights Please" rail against deadbeat fathers. Mixed in with The Warm Up's focus on women and sex was a sense of reality, the confidence that he has what it takes,,  passion for his craft and a yearning to achieve his dreams.
After talking to the college students in line with me for J. Cole's record signing on Tuesday, I wasn't the only one his themes resonated for. They all told me their motivations for wanting to wait hours to shake his hand and get a CD signed, but tops on the list was that they identified with the way he had to grind to live the life he wanted.
The long-awaited, several-times-delayed Cole World is a good album, but falls short of being great based on several songs I really didn't feel at all. I thought a lot of his good album material was probably spent on Friday Night Lights, though songs like "Sideline Story" and "Lost Ones" rank among his finest to date.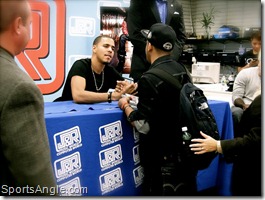 More important than the quality of the album, however, is what it represents – the tangible culmination of a lot of hard work and hard dreaming.
We all have equivalents. There was the feeling I had standing at the precipice of the Verrazano Bridge before my first marathon. There was the first time I picked a magazine off the rack at Barnes & Noble to read an article with my name on it. There was that elevator ride on my first day at the job I have now, determined not to drop the ball.
I'd imagine I'll feel the same way when I've walked that aisle and I'm waiting to get married next year.
Talking to J. Cole at his record signing, his songs ringing out through J&R Music World, I saw someone maybe a bit blown away by the whole thing. I focused very closely on him to watch how someone reacts to such a situation.
And the inspiration of seeing someone experience his dream was more than worth waiting a few hours outside.