This week's random thoughts. A little boxing, a little baseball, a little Kobe Bryant as a rapper.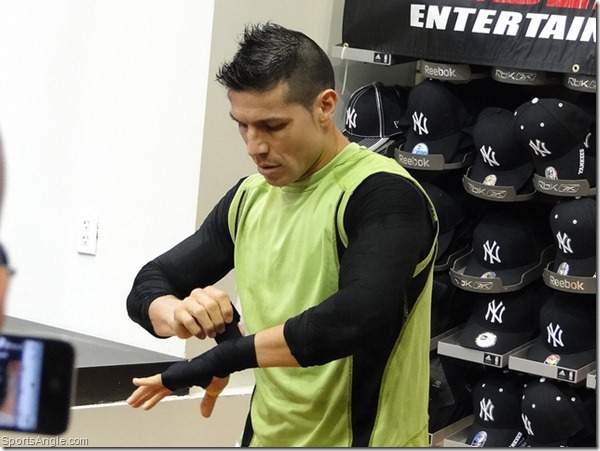 Last November, I thought after watching Sergio Martinez detonate Paul Williams in Boardwalk Hall that I had seen The Next Big Thing.
Almost a year later, the growing suspicion that we're never going to see that actually happen has become a bigger personal disappointment to me than anything else in a sport that tends to consistently disappoint, far surpassing the interminable wait for Pacquiao-Mayweather.
I went to Martinez's open workout at Modell's the other day in Times Square, which drew a decent but not enormous crowd, and far off the 1,000 people that promoter Lou DiBella claimed showed up in his rant at Bob Arum on Thursday.
Martinez jumped rope, shadowboxed and hit a bag, looking as if he's in impeccable shape heading into his match against relatively unknown British fighter Darren Barker on Saturday in Atlantic City. DiBella brought in an adult films actress to greet Martinez – for what reason, I still don't know – and Martinez gamely posed for pictures with her.
Hitting the bag, Lou looks on
Martinez then went downstairs and signed autographs. I got a glove signed; bonus points to Martinez for noticing my Chai and offering up a grinning "Shalom" after I clumsily said, "Buenos suerte."
But something was just missing. When I bought the gloves to get signed, they gave me two free tickets at the register for the Martinez-Barker fight, and I didn't even ask for them. I know they paper arenas all the time, but to do so for that extent for the great Maravilla, it seems an indignity.
To watch Martinez fight is to see a mix of fury, dignity and sheer talent. He's simply a beautiful fighter in both style and appearance. This is someone who belongs in the spotlight, presented as a beacon for positivity in the sport, charming and indomitable at the same time.
For years, he wore as a perverse badge of honor the mythical badge of "the guy nobody wants to fight," based on his left-handedness and slick style. Even if you thought you could win, you wouldn't look good doing it.
That gift has in effect become a curse; it's become easy for fighters to dismiss him as a potential opponent because they can claim he won't hold up his end of the promotion. Someone like Miguel Cotto – who, DiBella correctly assesses, Martinez would knock out – can scoff at letting his massive fan base prop up the gate, and nobody can honestly tell him otherwise.
Jimmy Tobin wrote an entertaining piece comparing Sergio to Beanie Sigel, a rapper who never reached his vast potential. For me, Roy Halladay comes to mind, pitching brilliantly in relative anonymity while missing the playoffs all those years with the Blue Jays, then pitching a no-hitter in his first opportunity at October ball.
Who's to say Martinez wouldn't do the same exact thing – knock out Manny Pacquiao or give Mayweather some of the same fits Floyd gives everyone else? I guess there's a chance I'm overrating – over-romanticizing? – Martinez and he's not on Manny or Floyd's level, but he took out Kelly Pavlik when it meant something to do that, arguably beat Williams twice, didn't lose for about a decade straight and looked magnificent doing all of it.
But Martinez doesn't bring enough name value for either Floyd or Manny to risk fighting him at 150, even though Martinez would have to wash himself out by going down over 15 pounds to do it. Julio Cesar Chavez Jr., a hyped name who Martinez would rip to shreds, would rather swim across the Hudson River than fight him.
After describing the situation to a friend today who isn't a fan of the sport, he said it seems like boxing is more frustrating than even the BCS in terms of getting the matchups fans genuinely want to see. It's the sort of thing that had DiBella, a lifelong boxing guy, telling me last year that he prefers baseball because of its relative lack of nonsense. Martinez's best hope appears to be moving up to fight someone like Andre Ward or Lucian Bute. I'd eat that up, as would most purists, but it wouldn't exactly lead to mainstream adulation.
I can't actually use the free tickets from Modell's for Martinez-Barker since I'll be tied up with Rays-Rangers, so I gave them to my fiancée, who's taking a friend. I want her to be able to say that she's watched Martinez in person.
But when she does tell people that down the road, I wish she wouldn't have to then explain who — and what — Sergio Martinez was.
*****
My latest piece for Dime Magazine was on Kobe Bryant's hip-hop CD – a little random, but anyone who reads this site knows random nostalgia is pretty much my modus operandi.
Ahmad Rashad: Painfully uncool
Watching this video of Kobe's lone performance of K.O.B.E., with him rapping in Italian for no apparent reason, really hammered home what a strange breach of character it was for Kobe to attempt to become a rapper, especially for a guy who – after rehabilitating his reputation following his high-profile sexual assault case – eventually became about as polished as anybody in sports.
By the way, I'll obviously still be writing here as frequently as my work allows me and I have something to say, but I'm enjoying broadening my horizons a bit over at Dime. They were the first outlet that let me write a decade ago, I've since been a fan, and I'm glad to again be on board with them. Kind of feels like a full-circle type of thing.
*****
I can't say enough about the last night of the baseball regular season on Wednesday. I don't think it necessarily signifies anything will change going forward, but it demonstrates the potential for drama the slow-burning sport possesses. I barely had enough time to switch over to the Rays game after the Red Sox lost to see Longoria at the plate. (Once in a while, I do get one right.)
Then the first day of the playoffs saw the momentum screech to a halt with a one-sided Rays-Rangers game and a rained-out can't-miss matchup between Justin Verlander and CC Sabathia.
Just bad luck, I guess. But anyone who followed the sport on Wednesday won't soon forget the vibe of that night, one in which I was proud to work in baseball. I've poured so much of my time and energy into this sport over the years. If seeing other people recognize how awesome the sport can be is the visceral payoff, I guess that'll do for now.
*****
WEEK 4 PICKS
Season record: 3-4-2
Last week: 1-2 – Won with Miami by virtue of them only losing by one. Lost with Atlanta and the Steelers.
Saints -7 at Jaguars – I can't see the Jags hanging with the Saints with Lance Moore back.
Titans +1.5 at Browns – One of these weeks, Chris Johnson is going to get it going.
Giants -1.5 at Cardinals – Not crazy about picking three road teams, but if the Cards scored just 10 points in Seattle…