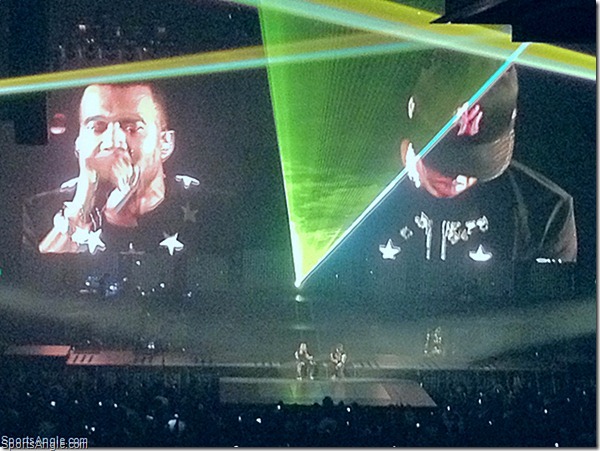 I can't remember exactly when, but there was a point on Tuesday night while watching Jay-Z and Kanye West perform in Baltimore when I turned to my fiancée and said, "I don't know if I've ever felt as cool as I do right now." This despite wearing a Mets jacket.
This is what Jay-Z and Kanye elicit with their "luxury rap": You don't do the same things they do, you don't have their money, you can't really relate to the majority of how they describe their lives.
But you still can't help but feel cool, and somewhat inspired, by association.
*****
I don't like the Izod Center; it's an ugly building inside and out, the sound quality is terrible and the huge white elephant of Xanadu is a constant reminder of my tax dollars going to waste. But I liked the Watch the Throne album a great deal, I wanted to see Jay-Z and Kanye West in concert, and I don't recall the Madison Square Garden or Atlantic City dates having yet been announced when the tour first went on sale.
So I hatched a scheme in which my fiancée and I would take a road trip down I-95 to Baltimore. The show was on Nov. 1, so it would help me kick my post-Halloween blues, and we could celebrate the end of a hectic baseball postseason during which we hadn't seen each other nearly as much as we'd prefer.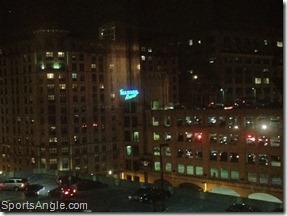 The convenience was off the charts — at least, once we completed the three-hour drive from Central Jersey. We booked a room in a Day's Inn about a block from the arena, and since you pretty much have to have seafood when you're that close to the Inner Harbor, we ate a very good dinner at a place around the corner. (My broiled seafood platter was drenched in butter, a pet peeve, but the scallops were so good that I let it go.)
The 1st Mariner Arena turned out to be just what I'd hoped it would be, meaning the anti-Izod Center. The arena opened back in 1962, the same year the Mets came into existence, and the fact that it holds under 14,000 people gave it that rare every-seat-is-good feel. The Yankee Stadium Jay-Z/Eminem show last year was spectacular in many ways, but the 1st Mariner had a certain old-school charm that lent the proceedings an intimacy and individuality that show lacked.
The city has apparently been trying to replace 1st Mariner for the past seven or so years, but the initiative keeps getting tied up in red tape, proving that red tape isn't actually always a bad thing.
*****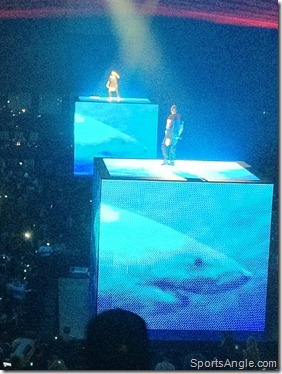 Watching a Jay-Z/Kanye West show presents a dichotomy between seeing two geniuses at the absolute top of their game, tempered by the stilted and staged proceedings of the third show of a long tour. The dialogue is rehearsed, most of the pyrotechnics formulaic, and yet everything is top-notch because of the performers involved.
The two play off each other well, with enough rapport that neither individually sucks up all the air in the room, though the pair of them assuredly does. While they share their love of money and the good life, they almost remind me of Outkast: Jay plays the Big Boi role of a supertalented straight-up rapper. Kanye, meanwhile, has channeled Andre 3000 in terms of embracing his weirdness, eschewing his former proverbial backpack for what appeared to be a variety of kilts for no other reason but that he can.
While their stage show featured a few staples of rock shows of yore – puffs of flame and lasers shooting across the arena, a la the Trans-Siberian Orchestra – there were other next-level elements:
"I made Jesus Walks, I'm never going to hell."
The show began with Kanye and Jay-Z rising at opposite ends of the arena on enormous glowing cubes as the two apex predators intensely traded verses from "H.A.M" amid imagery of sharks and tigers. Though, as on the album, this sort of futuristic vibe far better suits Kanye, it's not that Jay doesn't have the talent to fit in, especially given his desire to project as simply better than everyone else.
Jay and 'Ye took turns rattling off hits from their extensive catalogs, sprinkling in material from Watch the Throne and other songs the two had collaborated on. (They didn't play personal favorite "Never Let You Down," but that and the omission of WTT bonus cut "Primetime" are my only minor quibbles with the highly comprehensive set list.)
The Baltimore crowd, decidedly more hip-hop than the yuppie progeny I'd imagine will primarily populate the Izod Center shows, danced in the aisles and rapped every lyric, prompting Jay to remark that it was the best crowd they'd seen on tour. (They'd only played two other shows, but still a nice sentiment.) I was compelled to let loose a bit myself, though it occurred to me while I did that such behavior felt somewhat out of place given the deified status of the performers.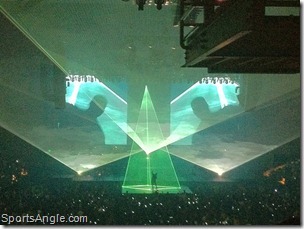 And yet, I'd imagine Kanye and Jay-Z are not that far away from their less fruitful former lives that they can't take a moment to get down like yesteryear. I recently read "Decoded;" Jay's well-storied past as a drug dealer is never that far from his mentality and obviously remains an integral part of his artistry.
And Kanye is way past "Big Brother" at this point –- rapping inside a glowing green pyramid, and such. But when Jay gave him props for coming up with the familiar and seminal beat for "H to the Izzo," the sheepish grin on Kanye's face gave away a rare bit of his old vulnerability left over from the desperate days when he simply strived to get a beat on Jay's album.
Huge images of Malcolm X and Martin Luther King adorned the big screens during "Made in America," and I get the point Jay and 'Ye like to make about their success as black men in a society that isn't necessarily conducive to that. The next step would be to remove that chip from their shoulders; I see no reason to limit themselves when they possess genius with the potential to transcend race.
*****
In my opinion, people sort of missed the point on Watch The Throne. Was it an intended homage to its practitioners' ostentatious wealth? No question, but it also served as a celebration of the human spirit.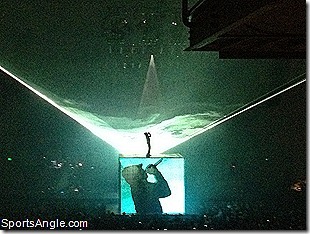 Those "private jets flying over you" contain a whole lot of gold jewelry and Dom Perignon, but also a coach section full of dreams and inspiration realized through focus and natural talent. They've earned where they're at, and watching Jay and 'Ye do their thing made me want to get better at the things I do, stronger, faster.
One of the songs I thought they did best was "99 Problems" — I especially got a kick out of Kanye rapping the cop's lines. My fiancée, who was awaiting her bar exam results, rapped along with Jay-Z, "I ain't passed the bar, but I know a little bit…" She then turned to me and said, "I hope that was the last time I'll say that line and have it be true."
An hour and a half later, we were unwinding in our hotel room watching television when out of nowhere, she received a late-night e-mail from the New York Bar Association. With her eyes welling up, she looked up from her phone and informed me that her hard work had indeed paid off.
Then she told me she wants to buy a bottle of Dom P to celebrate.