I've always thought that there's an inherent loneliness that comes with preternatural talent.
Reflecting on the great moments one can produce with sheer physical or mental genius can be like walking through a hall of mirrors, fated to see endless glimpses of moments in time that can never be recaptured except through still or moving images.
When I look at Michael Jordan, I see a man trapped by his own greatness. The man was like Icarus; he reached heights unlike those reached by anyone else, but the problem with tasting a nectar that sweet is that it's difficult to put up the rest of your life by comparison.
I've long been fascinated by Jordan's ascent from mere mortal to demigod. Over time, as his talents and accomplishments grew, he metamorphosed from a high school kid to an NCAA championship hero, to a hotshot rookie to an NBA scoring leader, to an MVP to a champion – and eventually to the greatest of all time. Not to mention… a worldwide icon.
But at what cost to the man's soul?
The people appalled by Jordan's speech at his Hall of Fame induction clearly haven't done their homework. Long fascinated by him, I've read numerous books that helped me tap into his essence, and he constantly needs to find new ways to challenge himself, even if he has to invent them himself. Jordan is so used to never losing that he constantly has to assert his superiority, even if it means rehashing dead challenges from years and years ago.
Michael refused to give in to his own vulnerabilities during his speech. So he buried them underneath a mountain of bravado.
He invited the guy who beat him out for the team in his sophomore year of high school. He went at Bryon Russell hard. Amid the tears that go with reaching the pinnacle of his sport in a way even he never had, Jordan verbally stuck it to all his peers who could never get close to him in an attempt to get under their skin.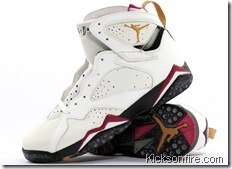 I'm not saying it was right for him to do it that way. I'm just saying it shouldn't be a surprise.
Mike was never a good winner, because to him that would compromise his competitive edge. He befriended other players who craved his approval, such as Patrick Ewing and Charles Barkley, but you have to wonder how much of it was to gain the psychological advantage. If an emotion costs someone even 1 percent of their efficiency, that's what he was after.
Though I don't ascribe to many of his philosophies, I've been fascinated with him for some time. You couldn't grow up during the 90's and not have Jordan be a part of your life. I spent most of my formative years as a Knicks fan rooting against him, but it was like a Spike Lee thing – you loved to root against him, but you loved watching him.
There was truly nothing like Air Jordans for couture when I was growing up. I still remember lacing up my first pair, the Cardinal 7's (above), after my parents purchased them for me when I was in eighth grade – I truly felt like the king of the world, word to DiCaprio.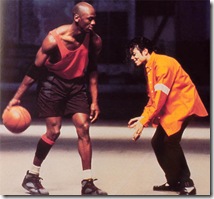 I wore my share of Jordan shirts. I also watched every game the Team USA "Dream Team" played in the '92 Olympics, which is widely looked at his zenith. It's when Jordan became a worldwide brand, much like Coca Cola, McDonalds and Gatorade – not so coincidentally all Jordan-endorsed. Speaking of which, I obtained the big Jordan Team USA cup at McDonalds – along with a Ewing cup, of course.
Jordan wasn't just the greatest basketball player of the day. He defined an era. He was the flawless blend: marketing-enhanced charisma, good looks, athletic and physical beauty and unparalleled celebrity.
A perfect microcosm of the time was the video for Michael Jackson's "Jam," when the greatest athlete and the greatest entertainer shared the same court. The week it premiered in '92, it was the talk of my bar mitzvah. The two MJs, both at the top of their respective crafts, doing their thing at a level that others could only dream about.
6:00 — Jackson teaches Jordan to dance: chilling
Just the way people remembered how Michael Jackson affected their lives growing up after he died, it's the same with Mike Jordan. He was in every living room in America. He was on kids' feet in the hood and in the suburbs. I remember watching Jordan's legendary last shot over Russell with a group of my friends – basketball fans or not.
Who was on Jordan's level in the 90's? Michael Jackson. Clinton. Tom Cruise. Gorbachev. Bush, the first one. Vedder and Cobain. That's it.
It's impossible to stay based in reality when your life reaches those heights. The problem is that there's only one way to go, which is down. What happens when the cheers die down, the body ages, the games stop?
Jordan is still looking for that answer.
That's the competitor in you. You believe and you know that you're going to get it. There's always a next game.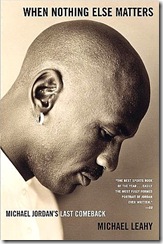 Since his skills and body eroded, the man has never figured out what that next game is. And I don't know if he ever will. He has never found satisfaction – or success – as an NBA executive, and being involved with his shoe brand doesn't get his blood pumping. Golf and poker provide only temporary fixes.
"A Bronx Tale" said the saddest thing in the world is wasted talent. I disagree: I think the saddest thing is when someone doesn't know when to let go of the past. Move on. Evolve.
I thought it ironic that Jordan's coronation to the Hall of Fame took place on September 11. As chronicled in the brilliant book "When Nothing Else Matters" by Michael Leahy, Jordan declined to take part in pregame 9/11 commemorations when he came back to the Wizards in 2001, believing it would interfere with his pregame preparations. He refused to speak about the events that transpired, only discussing his own physical condition. He donated his salary that year — $1 million – to the relief efforts, but that likely wasn't his idea.
Jordan has always been self-absorbed and consumed with winning at whatever competition he could find. That said, the only competition he's ever been truly able to dominate is on the court. That is why his Hall of Fame speech resulted in him reliving his greatest triumphs in the sport as if they happened yesterday. He can't let go because it's where he is king, except it's all in his mind at this point.
Michael Jordan's heart and mind are turbulent places, never to find a restful spot. The things that made him great now make him a somewhat depressing figure.
I've long admired Jordan, but not as a person. I worshipped his determination and work ethic as a player and athlete, his ability to rise to the occasion, and have attempted to translate that to my own life – athletically, career-wise and in my personal life. But I long for him to find his place post-basketball, to become as significant now that he's off the court as he was when he was on it.
I don't believe that will ever happen.
As a result, like the old Gatorade song goes, I have no problem if you want to "Be like Mike." In certain ways, I still do.
But be as he was. Not as he is.
Because when you strip away the fame and all the accomplishments, Michael Jordan is just a man with flaws, like the rest of us. But unlike most, he never came to grips with the fact that he is most certainly and indelibly human.