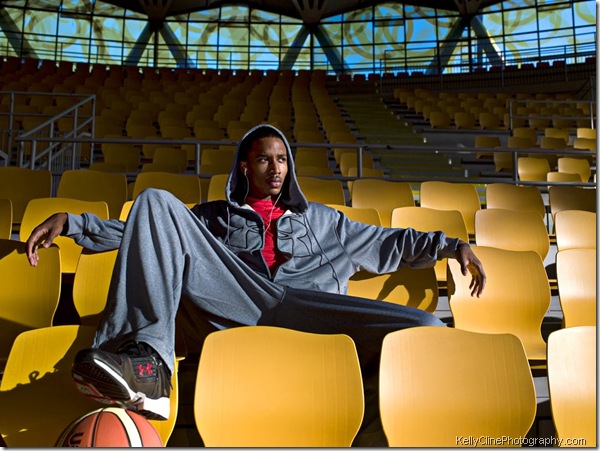 Ever notice that the same people who are quick to pass judgment based on their own personal bias are nowhere to be found when they're dead wrong?
I've had a lot of practice being wrong, so I have no trouble admitting it, like when I pulled a sheet over Tom Brady's career a little while back. (And I hope I'm wrong about Coach K!)
In that spirit, where are all those people hiding who declared Brandon Jennings' foray to Europe to be a horrible idea gone wrong?
I'm looking at you, New York Times. Come out and play, Yahoo! Sports. I'll give credit where it's due – ESPN was pretty fair on this one.
The simple fact is that Jennings made a lot of people look foolish with his 55-point game last Saturday night. Granted, it came against the sieve-like Warriors – give me 25 minutes and I think I could score about a dozen points against them, and I'm 5-foot-6, buck-thirty-five.
But 55 points is 55 points. The vaunted double-nickel. Jordan let the world know he was back in business when he put up 55 at the Garden right after ending his first retirement. It became part of his legend. And if Jennings turns into the star it appears he's capable of becoming, it'll be part of his.
Because no matter who was defending him, that jumper was falling quicker than Miguel Cotto in the fourth round.
Could it be that Young Money actually – get ready! – got better because he went to play in Europe instead of in the NCAA? Where they treated him like a man instead of a boy, an employee instead of an indentured slave?
Let's not deceive ourselves here: Is the typical one-and-done player really there for an education? Of course not. They're there because the conventional thinking is that the NCAA game is a sort of minor league system for the NBA. Since the NBA instituted an age rule, the Durants and Odens of the world have to kill time for a year. They go, get pampered, make a lot of money for the school and receive little to none, and enter the draft unchanged for their experience.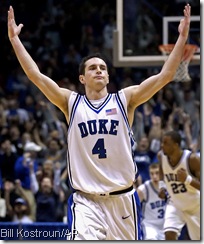 Let's face it, big-time college basketball is sort of a sham. The player benefits in terms of exposure, but the school makes all the money. How many of those Duke No. 4 jerseys do you think they sold? There was no "Redick" on the back, but you knew what you were buying and the school was still profiting off the player.
This is why college players end up taking nominal sums of money from boosters or whatever and getting in trouble for it. They want to get theirs. And this is why Shane Battier thought there should have been a stipend for NCAA players – for one, they're essentially working for the school and not getting paid, and secondly, it would in theory defray at least some of the corruption that had taken wing.
And for a guy like Jennings, how much education was he going to get in a year of college? We all know the score anyway, these guys see about as much class as a strip club.
Meanwhile, Jennings did things his own way, though it was admittedly predicated by the fact that he was having difficulty qualifying academically and Arizona was going through all sorts of personnel turmoil. As a result, instead of playing for the Cats for free, he took a $1.2 million salary to play in Italy, and he got a sponsorship from Under Armour. And all we heard about were his growing pains. Jennings wasn't playing as much as he'd like, he felt isolated in a foreign country, he should have thought twice, etc.
But all that was coming from society's need to stifle people who decide to be different, just because anybody who tends to think for themselves becomes a threat to the status quo. People can't handle it, process it, when someone does something that they're not comfortable with. Jennings skipping college was a big slap in the face to people who believe you need to do that – like ESPN, when you figure in that the college game is big money for them.
A funny thing happened to Brandon Jennings on his way to doom and destruction in Italy – he became a man. Jennings went there a brash, immature, cocky shoot-em-up point guard. And if he had gone to Arizona as planned, that's probably what he would have stayed, as I don't see big-time college coaches being quick to discipline their one-year deities so as not to offput future recruits.
But Lottomatica Virtus Roma didn't coddle him – not for $1.2 million. Any learning Jennings missed out on at Arizona, he made up for with real life experience. Jennings had to earn his keep, was cut no slack, and when he came back here for pre-draft workouts and was killing everyone, we should have known he was a changed player.
Namely, Jennings' game had matured. He came into the league confident that he could play with pros because he already had, and with a subtle level of refinement that comes with having played the international game.
Sure, he remained a little eccentric. Jennings watched the draft from his hotel room, nervous about being one of those red-room cautionary tales, and then busted tail in a suit to get to MSG to shake David Stern's hand after the Bucks made him the new Paul Pierce at No. 10.
He also told anyone who'd listen, and lots of people who wouldn't, that he was better than Ricky Rubio. It turns out he probably is, because if Rubio's better than this, he's phenomenal.
So other teams' antiquated thinking became the Bucks' gain. For example, given Mike D'Antoni's international history, and that they desperately needed a point guard, you'd think the Knicks would have taken Jennings after watching him more than hold his own against Tyreke Evans – we love him too – in workouts. Instead, they played it safe: thus-far ordinary big forward Jordan Hill, who played three years at the same Arizona Jennings skipped out on.
Meanwhile, post-55, Young Money keeps averaging 25. That'll come down over time as the rookie grind sets in, but isn't it obvious by now this kid's something special?
Just like when high school kids started going to the pros en masse and you had your cautionary tales, there will be Taj McDavids of the year-in-Europe brigade. But what Jennings proved is that it's possible not just to succeed following that path, but to thrive.
And every dominant week that goes by, Young Money becomes even more an example of why we must keep an open mind about the different paths people take.