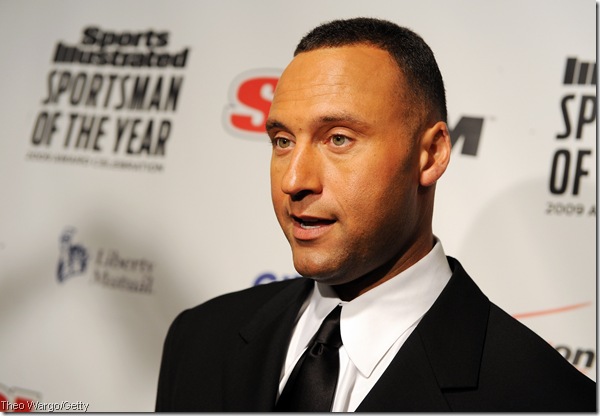 Now don't get this twisted, I actually very much respect Derek Jeter. He's an excellent baseball player, keeps his name off Page 6, does a lot of charity work and has a work ethic I admire.
But Jeter as Sports Illustrated Sportsman of the Year? Either it was a slow year, or that "award" is a sham.
And it wasn't a slow year.
The thing is, it's hard out there for a magazine (or newspaper). The problem is that for the most part, nobody buys actual publications anymore. Newspapers are a dying medium, and the Internet is holding the smoking gun.
Every day on the bus and train, I see people reading the New York Times on their Blackberry. There's no reason to buy it when you can get pretty much all of it online. I still subscribe to Sports Illustrated and the Daily News – what can I say? I'm a traditionalist – but most papers' circulations are way down and they are hemorrhaging money left and right. Even the vaunted Grey Lady herself consistently has difficulty making payments on her midtown building.
And magazines aren't so different. The days of browsing the magazine rack are pretty much over, unless you're about to get on a plane. Let's say you're a fan of, I don't know, LeBron James. Why limit yourself to one article on The King when a Google News search on your iPhone will turn up tens of dozens of up-to-the-minute pieces on what he's eating for breakfast, or what sneakers he's wearing?
Of course, the greatest chance a magazine has of actually selling is if someone compelling is on the cover. People like reading magazines with LeBron on the cover, Jay-Z, Lance Armstrong, those Twilight kids. They like being seen with them on the subway, as a little bit of the cool factor of whoever's on the cover may just rub off on them.
Sports Illustrated is a relatively respected news source. But they're primarily a business, and not a prospering one. I would surmise the reason they honored Jeter – which resulted in him becoming a cover boy – is to sell more magazines. The Yankees are fresh in people's minds after winning the World Series about a month ago, and Jeter is by far the most marketable player on the team. Just as people snap up those commemorative issues, they'll grab this at the newsstand to add to their Yankees championship collection.
It wasn't always this way. When the economic climate was different, it was fine to put a Greg LeMond on the cover and know that people would buy it anyway. But now, you have to give the people what they want.
It's no secret: The people love Derek Jeter. A fan vote gave him the Hank Aaron Award, which is supposed to go to each league's best hitter. I'm not saying Jeter didn't have a wonderful year, but even for a sabermetrics skeptic like myself, there is no way on this planet he was a better hitter than Joe Mauer. Switch them up, put Jeter at that horrific dome (word
to Jon Miller) and Mauer in the cozy confines of Yankee Stadium and in front of the New York media, and not only would the catcher have won, they'd rename it the Joe Mauer Award.
There's a reason that no lone baseball player had won SI's Sportsman award since Ripken back when he "saved baseball." More so than any other sport, baseball is truly more about the team than the individual.
So who were our alternatives to Jeter for Sportsman of the Year?
— Mauer. A better hitter than Jeter, plays a true glamour position, got an underwhelming team into the playoffs and could touch off the biggest baseball bidding war of all time next winter.
— Kobe Bryant. Love him or hate him, the best player in the NBA. Finally won a title without Shaq and is a model for Tiger Woods' image recovery. Has to be nearly as marketable as Jeter.
— Roger Federer. Finally got over the hump at the French, becoming the sixth player to complete a career Grand Slam. Won a classic Wimbledon final over Roddick and finished the year ranked first for the fifth time. Has never won Sportsman of the Year, ridiculously.
— Drew Brees. Has the Saints taking aim at an undefeated season. Has put himself in a pantheon with Manning and Brady. Could win the Super Bowl, in which case SI would have looked really smart.
— Tiger Woods. Nah, I'm just playin'. As we've gone over, the guy should have taken a cue from Jeter and stayed a bachelor.
— Albert Pujols. Like Federer, has never won the award. Had possibly his greatest year ever. The heart of a consistent playoff team. Has to date not been involved in a steroids scandal.
— Manny Pacquiao. Beat Hatton and Cotto soundly on heels of last year's decimation of Oscar De La Hoya, becoming best pound-for-pound fighter and the face of the game. Set up megafight vs. Floyd Mayweather. Is running for Congress primarily to help poor people in the Philippines.
— Mariano Rivera. More so than Jeter, the main reason the Yankees have had so much success over the years. The best closer in the history of the game, a weapon nobody else can possibly match. View it as a lifetime achievement award.
Unreal Gillette ad with Tiger, Federer, Jeter
Now I'm not saying Jeter doesn't belong somewhere on this list. I respect his charitable endeavors – though let's be real, they're not on the level of what Pacquiao's trying to do. He's a terrific ballplayer, has a certain mystique about him and is the biggest winner in the sport of baseball. (Well, him and Rivera)
I'm just saying that Sportsman of the Year seems a bit much, and almost seems like the answer to the question, "What do you give the guy who has everything?"
But I don't begrudge SI. That's not the point of this. It's more just speculating on what goes into a decision such as this one. I fully understand that putting Federer on the cover isn't going to get you to buy a copy at the newsstand, and I don't expect them to conduct business that way. I just want to point out the reason I feel he was the choice over other worthy candidates.
When I give out our Athlete of the Year award here, I'll take Jeter into consideration, and deservedly so; he had a great year, and he's the captain of a team that won a championship in a major sport.
But there's a good chance that you'll see me give it to one of the athletes above – or someone I'm overlooking right now – and not to Jeter.
After all, I'm not trying to sell you a magazine.