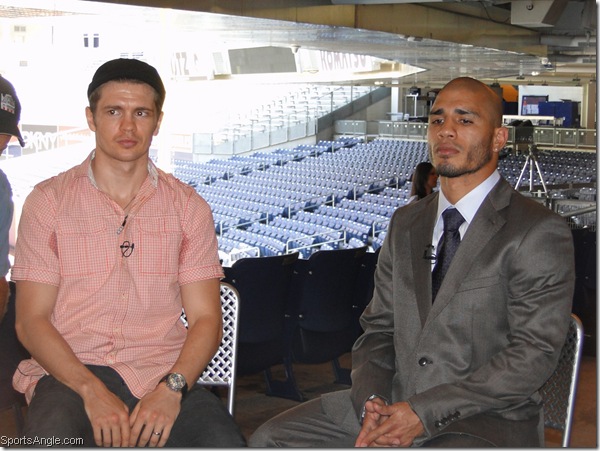 Thought I'd share some of my favorite pictures from the run-up to Yuri Foreman vs. Miguel Cotto at Yankee Stadium tonight. Feel free to use any of them for whatever you'd like, but please credit SportsAngle.com.
OPEN WORKOUT – TUESDAY, TRINITY GYM
I'd never actually been to one of these specifically before, and it was very cool. Actually – poor choice of words, it was dark, dingy and blistering hot, but that's how I'd imagine one of these gyms to be. There were some fans that seemed to serve the purpose only of blowing hot air directly on me. It was honestly pretty great. I liked Foreman a lot; he's very soft spoken and congenial, calling everything about the fight "cool." I stood in a corner of the ring outside the ropes to watch Cotto spar with Emanuel Steward, the closest I've been to a big-time fighter, and it's amazing to see the force and ferocity of his punches. I'm just glad he didn't misfire with me on the apron – a broken jaw is not what's really good right now.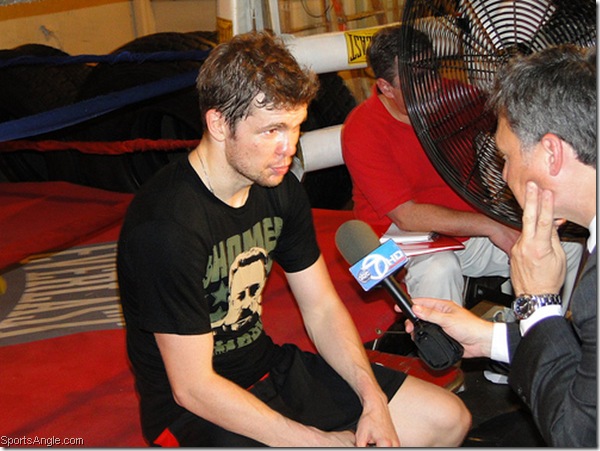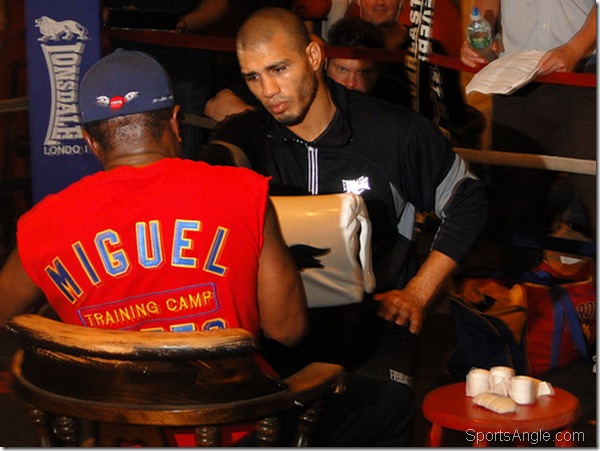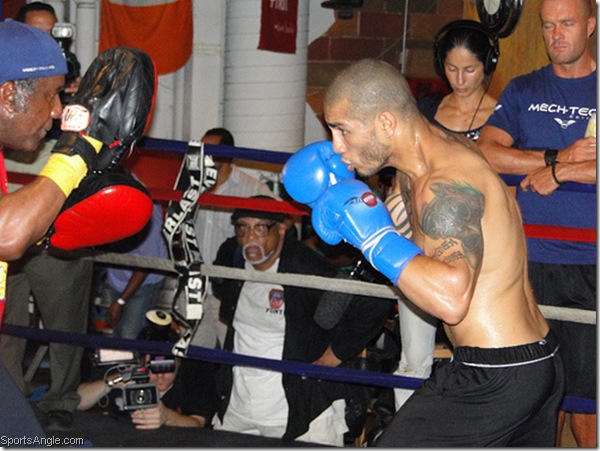 FINAL PRESS CONFERENCE – WEDNESDAY, YANKEE STADIUM
Pretty standard stuff. Sitting next to Foreman is Yankees chief operating officer Lonn Trost – decent to talk to, though he insisted on bringing up New York tax laws and stuff ad nauseum when I asked him about whether they'd have more fights at the Stadium. Granted, it's a legitimate factor, just stop beating me over the head with it.
The second picture is Christian Martinez and Jonathan Cuba, the actual first fight at the Stadium, on the undercard of Cotto-Foreman.
The third picture is that kid with the Bar Mitzvah at the Stadium, being paraded around by his father, who's some lawyer for the Yankees or something. Yeah, I'm sure that kid isn't spoiled. My Bar Mitzvah's reception was in the basement of our family's temple.
Cotto sat next to his son on the dais, who was checking out SportsAngle.com on his iPad. (Actually, I don't know for sure what he was looking at, but I can only assume)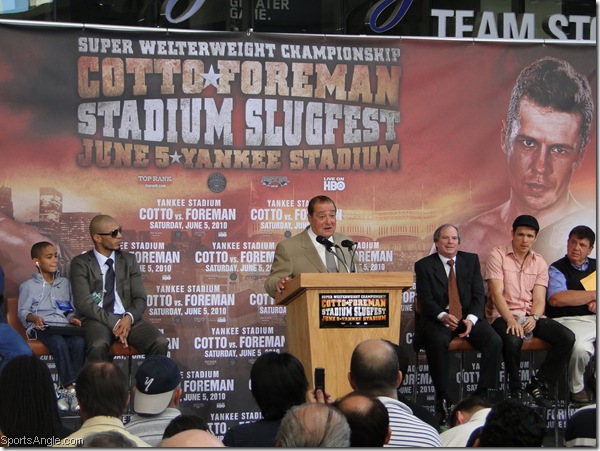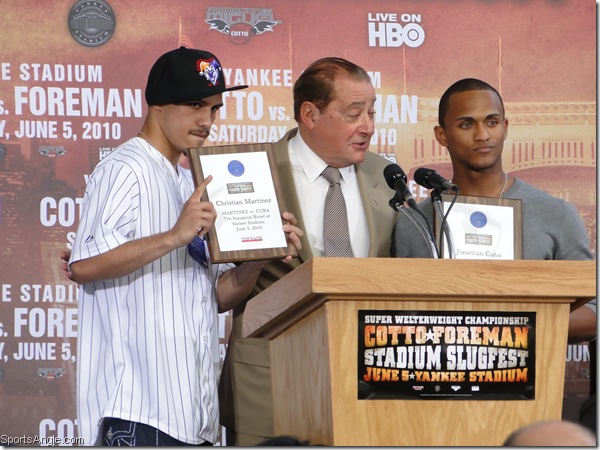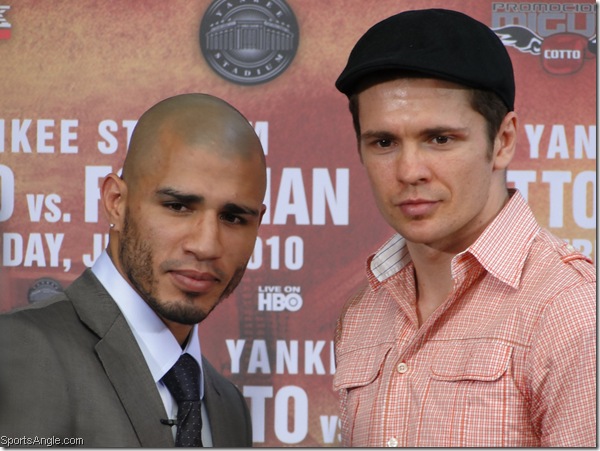 WEIGH-IN – FRIDAY, YANKEE STADIUM
My first one of these, as well. It's kind of a weird dynamic – the fighters strip down to their underwear, get on a scale, they announce their weight, and everyone claps. Well, I guess for certain fighters – Ricky Hatton comes to mind – making weight is a major event. Cotto wore Superman underwear, for what it's worth.
Some shots down there of them putting the ring on the field, really cool stuff.
Random encounters here – I was talking to a Top Rank exec when Michael Buffer came up and just started complaining about some aspect of his travels. I'm not speechless often, but…
Eleventh picture is Trost and Arum. Lots of money hovering over that conversation.
Top New York boxing executive Melvina Lathan: class act. She didn't have time to talk, but did e-mail me later in the afternoon.
Curtis Sliwa, overheard: "It's good they're outside. Most of my fights have been outside."
Paulie Walnuts from the Sopranos, in a chilling encounter: "I'm a big Cotto guy. (points to my Chai) I'm assuming you're rooting for Yuri. (pats me on the cheek) That's okay by me!"