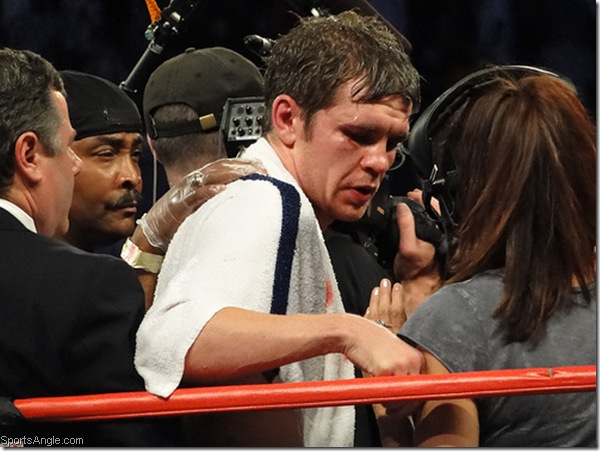 Yuri Foreman shuffled around the ring in the seventh round on Saturday night, attempting to fight with a badly injured right knee, while most observers lamented what a bad break had befallen the first Israeli world champion.
But Foreman's injury took his title defense against Miguel Cotto from a surprisingly good match to unforgettable. And in the process, he showed us just what kind of person he is, and established a legacy that extends far past the ring.
Not a bad silver lining, if you ask me.
I think the thing I've always appreciated about boxing is that it tells you exactly who you are. It's two men, face to face, and you find out who simply has more – conditioning, strength, desire.
It's easy to look good when things are going well. When things get difficult, that's when you have to rise to the occasion. When you find out who you are.
"That's what boxing's all about," MaxBoxing.com's Gabriel Montoya told me on the phone a few hours after the fight. "Two men get in the ring; they put their will and their skill against each other. And when those things start to fall away, they have to dig even deeper and find that special thing."
I've heard Foreman's saga aptly compared to Armando Galarraga's near-perfect game last week. If the right call had been made at first base, the relatively little-known Tigers starter would have reserved a spot for himself into the history books. But that would have faded quickly. The aplomb and dignity that Galarraga showed during that whole situation made him special, and someone who earned lasting respect in his sport.
The same could be said of Foreman after Saturday night. If he had simply gone the distance with Cotto, win or lose, the bravery possessed by the former junior middleweight champion would have remained hidden behind his jovial personality and steely ring veneer.
When I think of the most emotional moments I've seen in boxing, I think of the late Diego Corrales somehow getting up off the mat to knock out Jose Luis Castillo in the 10th. There's the legendary Arturo Gatti and Mickey Ward embracing before the 30th and final round of their incredible trilogy, during the second-best live sporting event I've been to.
And I'll add to the list the chills I had watching Yuri Foreman simply refuse to stop competing after his right knee buckled underneath him.
Even the jaded boxing writers I was sitting with at ringside had to admit they were watching something fairly remarkable. We feared for Yuri, but we marveled at his heart, his courage, his chutzpah.
Speaking of which, I've always liked Foreman, but I have to admit it's been more for our shared cultural identity than his boxing style. The rabbinical student is clinical in the ring, but even his championship victory over Daniel Santos last November was unimpressive to watch.
There's obviously an interesting paradox with the Orthodox boxer. You don't expect someone like him to ply his trade in such a brutal sport, especially considering how soft-spoken and pleasant as he is. Combine that with his unspectacular ring tendencies, and Foreman has never earned much respect in the boxing community, often being labeled the "Running Rabbi." I have to admit that I didn't expect the fight to actually be very good.
Foreman will never be disrespected again.
Against a tough fighter in Miguel Cotto, whom I also like a great deal, Foreman fought the fight he always fights – perhaps coming out slightly more aggressive than usual. Cotto was also much better than he's been since his horrible loss to Antonio Margarito, invigorated by his work with wonderful trainer Emanuel Steward and using his jab to precision.
The rounds were all very closely contested; the official scorecards favored Cotto, but many of the writers around me had it scored for Foreman – as did I, 4-2, entering the seventh.
When Foreman went down awkwardly and his right knee twisted, I mean, I've seen that play; my thought at the time was a torn MCL or ACL, it turned out to be the latter. The pain must have been unbearable, but it would have been such a shame to see him go out like that.
Luckily, Foreman agreed.
"I'm a world champion — now a former world champion — and we don't quit," Foreman said memorably in the ring after the match. "We continue to fight."
And it's a great thing for everyone involved that he did. Instead of yet another Kermit Cintron-like disappointment, which would have been horrible for the sport, the fans in Yankee Stadium saw a remarkable display of bravery and inner strength. A strongly pro-Cotto crowd was shocked by the sight of a wincing and hopping Foreman refusing to let go of his championship without as much fight as he could muster.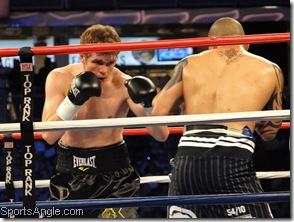 Sidebar: Don't include me with those who think Arthur Mercante should have stopped the fight when Foreman got hurt. I understand that fighters don't generally know what's good for them, and that it's part of a referee's job to protect them. But given the circumstances – big crowd, world title fight, first Yankee Stadium boxing since 1976, highest HBO boxing ratings this year – I feel it was important that Mercante allow Foreman the opportunity to go out on his feet. I mean, I probably would have ended it the second time his knee gave out, but I'm glad he had the chance to continue at all.
That said, once Foreman hurt his knee, there was admittedly no chance he was going to win the fight. A fighter as talented as Cotto, who looked very good on Saturday night, was not going to lose to a guy on one leg, especially one unused to slugging it out in the middle of the ring with a big-time puncher. It was a matter of time.
As I said, I've liked Cotto for some time, and I'm glad he's back in the mix for big fights. I'm not sure I want to see him fight Margarito again, but who wouldn't want to see him get revenge, especially given Margarito's arguably loaded gloves? It's good for the sport that he won, and that he looked good in doing so.
Still, it was Foreman who came away having cemented his legacy. Years from now, I'll still remember watching him hobbling into the center of the ring, standing in the line of fire trading punches with Cotto, though that's not in his comfort zone. I'll remember the crowd buzzing as they realized they had stumbled across something truly special while coming mainly to see a Stadium spectacle.
Veteran fight observer and friend Marc Israel, who celebrated his birthday at the fight, said afterwards on his Twitter account: "The heart Yuri Foreman showed tonight was enough for me to give him my full attention whenever he steps in the ring again."
A lot of people came away feeling that way, and I obviously agree. That said, Yuri's not going to change the fighter he is. In fact, I'm not convinced he'll ever actually be the same fighter he was. Foreman's main asset is his speed and elusiveness, which means it's imperative he makes a full comeback from his torn ACL – not a guarantee. Foreman will never be a power puncher; he nailed Cotto with some straight rights on Saturday that might not have knocked me out.
And if he does make a full recovery, his style won't suddenly morph into Manny Pacquiao's or anything. He's still going to follow his gameplan, even if it's not particularly exciting to watch.
But more than ever, I look forward to watching Foreman again, just knowing what I know about him. He may never have another fight like he did on Saturday – for his sake, here's hoping he doesn't – but I know how much courage he has, and I won't forget how he rose to the occasion with the odds stacked against him.
Honestly, he's everything I aspire to be in my own life. I was so proud of him.
And long after he's hung up his gloves to become the toughest rabbi in Brooklyn, Yuri Foreman could look back at the night he lost his championship as the moment he gained so much more.