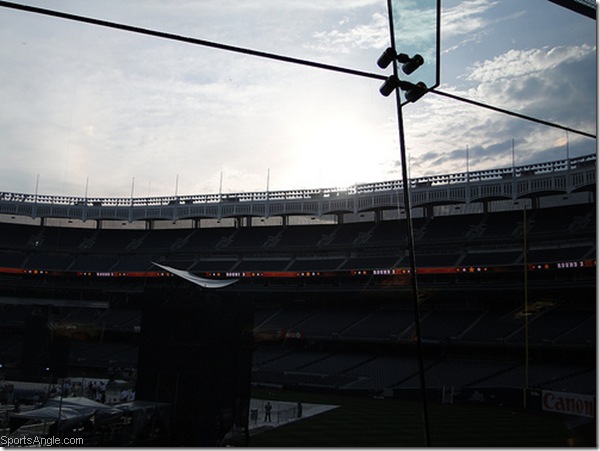 I had the privilege of covering the Yuri Foreman-Miguel Cotto fight for my day job this past Saturday, which I enjoyed a great deal. I hadn't been ringside for a fight since Floyd Mayweather and DeMarcus Corley way back in 2004, and it was good to be back. It almost made up for all the times I've had to work until long after the sun has risen. Almost.
Here are some of my favorite images from the first boxing match at Yankee Stadium in nearly 34 years.
After the weigh-in, I had watched the workers setting up the ring, and it was an interesting sight to see this massive stadium set up with a boxing ring in right-center field. Here's the ring before the card as seen from the "Mohegan Sun Sports Bar." Oddly, there are no slot machines in there.
I bought a grilled vegetable sandwich in the Mohegan Bar. The sandwich was in all honesty pretty terrible, but there was also an apple and it came in a Yankees box, so there's that.
In a nice touch, before the card began, the huge screen above the ring was showing Ali-Norton from 1976, the last boxing match at Yankee Stadium prior to Saturday. They failed to show any of the muggings or lootings that took place during that match due to the police strike.
Christian Martinez (foreground) took down Jonathan Cuba in the first official match in the new Yankee Stadium under shady circumstances, apparently.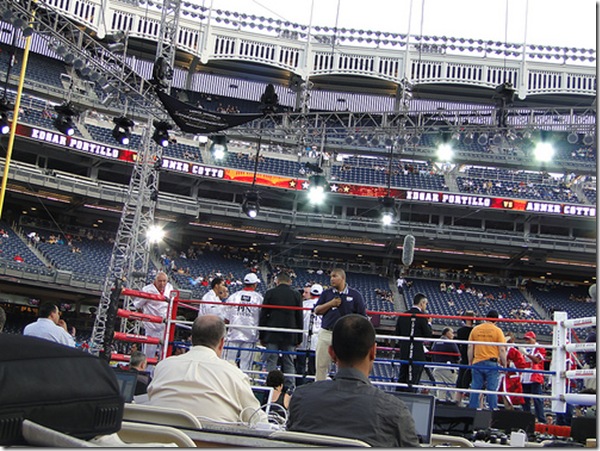 The view from ringside.
A competitive featherweight fight between Jae Sung Lee and Jorge Diaz was won by Diaz.
The enormous hi-definition screen above the batter's eye in center field. I don't think this picture does it justice, but it looked amazing.
Just, you know, setting the scene here. My favorite part of this picture is the shifty security guard on the right. Well, maybe not my favorite part. But that guy was awesome.
 
Looking directly upward, the canopy over the ring looked really cool backlit in blue. It was like being in Avatar. Eh, not exactly. But it still was a unique setup.
Freddie Roach-trained Vanes Martirosyan celebrates after beating Joe Greene in what was a totally mediocre lead-in to an excellent main event. The shifty security guard has far less interest in what's going on in the ring this time.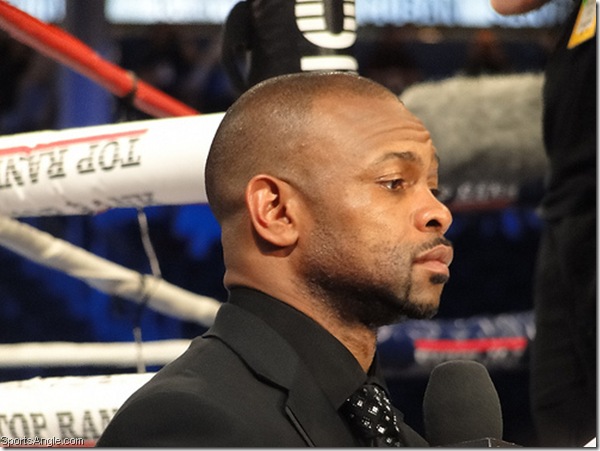 One of my favorite all-time boxers, Roy Jones Jr., looking dapper. HBO would do well to make him a permanent color man on its broadcasts.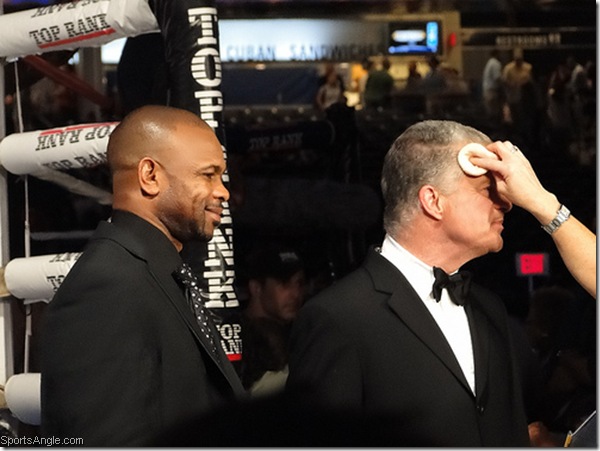 Roy had the same reaction I did to Jim Lampley getting makeup for like the fourth time.
Michael Buffer in a superb white tux. Having this guy come up during the weigh-in and complain about his travel situation or something in that booming voice was pretty memorable.
Boxing historian Bert Sugar. I love this guy.
My favorite athlete of all time, Darryl Strawberry, was there rooting for Cotto. It goes without saying that I adore Straw, and he took a minute to give me a few quotes, but wearing a Tiger Woods shirt and hat in an apparent show of solidarity was a questionable choice at best. He had zero interest in my story about how I converted to born-again Christianity to meet him seven years ago – this sort of really happened – but I can't blame him for that.
The top three decks at the Stadium, filled with Cotto fans.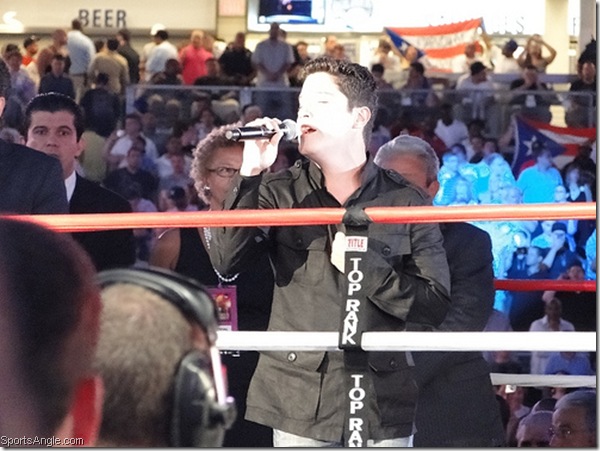 Frankie Negron did a fantastic job with the Puerto Rican national anthem. I sent out a picture of him on Twitter, which he found and seemed to appreciate.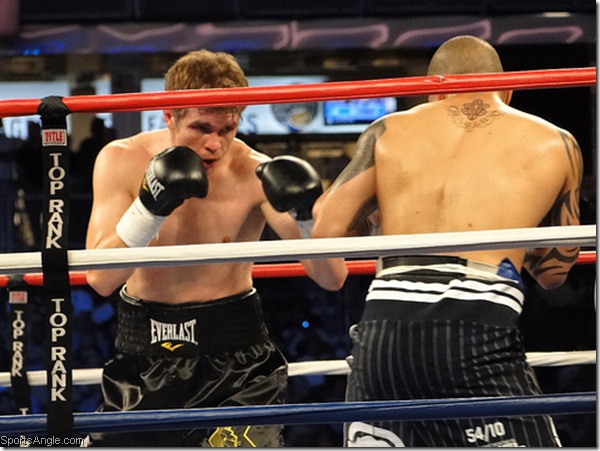 Yuri hung in there for a while; his movement made him a tough target for Cotto to find and he connected with a few nice shots.

But Cotto started to score well with his jab, an obvious point of emphasis from Emanuel Steward. Note – I found it difficult to shoot boxing from below ring level. The ropes get in the way and steal your camera's focus.
After the towel came in, but before the fight was restarted by Arthur Mercante, Cotto embraces Foreman in the corner.
Without his legs, Foreman hung in there, but took more punishment from Cotto than he was used to.
The fight was finally stopped in the ninth after Foreman's knee gave out one final time after a Cotto body blow.
I would have liked seeing how things would have played out had Foreman's knee not buckled, but take nothing away from Cotto, who fought wonderfully. Boxing's a better sport when Cotto is in the mix for big fights.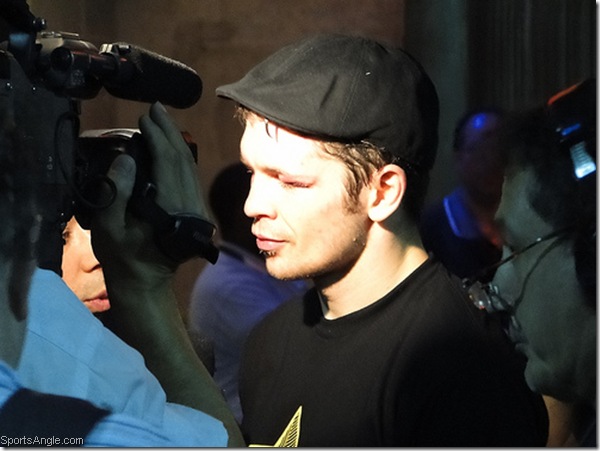 Foreman faces the media spotlight in the basement of Yankee Stadium.
A quick video I shot of Yuri being interviewed by what I think was ESPN Deportes.
Yuri Foreman addresses the media with his usual aplomb.
*****
All things considered, an amazing setting for a spectacular night that I won't soon forget, with plenty of wonderful sights to see. And I think that's why I stick with boxing – through all the nonsense, it's still the best sport to see live. The excitement of a big fight, with all its glitz and glamour, is unparalleled. And heart and bravery are still paramount, as demonstrated wonderfully by Foreman. You can argue that Arthur Mercante should have stopped the fight earlier than he did, and it's hard for me to strongly dispute the merit of that sentiment, but to me, the main thing to take from the night is the courage Foreman showed.