When Cedric Ceballos showed up out of nowhere on Saturday night, it instantly took me back to a point in time when the Dunk Contest actually could work.
With apologies to Jordan, 'Nique and Vince Carter, my favorite Dunk Contest was the first one I watched, when Ceballos won with the blindfold in 1992. A strictly baseball fan for a few years, I was just starting to get into the NBA during a boom period. The '92 Dunk Contest fit in perfectly with the Dream Team, Shaq, Michael Jackson's "Jam," White Men Can't Jump and my first pair of Cardinal VII Air Jordans.
The picture above – sent to me by friend of SportsAngle Matt Weber – captures the moment perfectly. You have Thunder Dan in a suit, putting the blindfold on Ceballos while a photog with ridiculous surfer hair and knee pads chronicles the action. In the background, a React Juice-clad Larry Johnson holds court with a referee and the Currys, Dell and little Steph. They didn't have to try too hard to make the whole scene work; it just did.
Ceballos' blindfold dunk was all the rage the next day at Temple Beth Am during Sunday school. On breaks from studying for our Bar Mitzvah, we debated over cups of apple juice whether Ceballos could actually see. (Of course he could, but I mean, we were 12.)
The dunk was admittedly a bit corny and Ceballos was hardly a superstar, but there was still a certain organic cool factor to the whole thing.
*****
Fast-forward 20 years, and the centerpiece of NBA All-Star Weekend was widely panned. No major stars participated, and to cover for a relative lack of creativity and fresh ideas, it was muddied up with props, including a seemingly besotted and obviously nonplused P. Diddy.
Of course, even last year's scripted winner – Blake Griffin dunking over (the hood of) an NBA sponsor's car while a gospel choir sang – was underwhelming given how hard they endeavored to create something buzzworthy. At least Griffin didn't botch it.
(Note: I did think Paul George's glow-in-the-dark dunk was highly underrated, though he definitely should have used a luminescent ball.)
Despite how much time everyone spends hating LeBron James, he's incongruously been deemed the potential savior of the Dunk Contest. Even for LeBron's tongue-in-cheek suggested fee of a million dollars – which he makes every four games this season – why would he want to dunk against a bunch of relative nobodies? He'd definitely win, but he'd look bad simply by association.
LeBron is the perfect athlete for the Twitter generation, which demands entertainment on its terms and gleefully lashes out when it isn't satiated. (The fact that he passed up the final shot in an exhibition became a referendum on his character, even after he scored 36 points.) His reticence to do a Dunk Contest is understandable: If everyone's going to kill him regardless of what he does, why should he put in the extra effort?
As such, the Dunk Contest as currently constituted is basically the perfect event for the times. In lieu of witnessing something that works, it's en vogue to feast on the things that don't, and at this point it's difficult to tell which is deemed more desirable. People seemed to relish in tearing down an uninspired Dunk Contest as if it were a personal affront to them.
It sort of reminded me of Madonna's Super Bowl halftime show. I enjoyed that, since Madonna is a living legend, her music is good and the Super Bowl thrives on spectacle. I was in the minority, however; Madonna and her show were pilloried by virtually everyone on my Twitter timeline, all of whom apparently were somehow being forced to watch.
And yet, the Madonna show became the most tweeted about music-related event ever. Likewise, voting for the NBA Dunk Contest took up 15 percent of Twitter, and the event itself received the second-highest ratings ever. Scorn has a tendency to move the needle.
The opportunity to broadcast our immediate thoughts is progress, but it breeds an inherent lack of satisfaction. Are we not entertained? Often, it seems to be preferable if we're not.
*****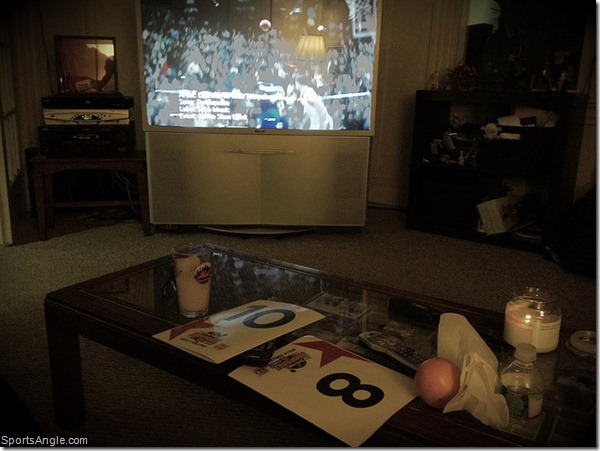 I'm not going to attempt to convince you the Dunk Contest was good – it obviously wasn't – but I'm not quite as down on it as everyone else.
My fiancée's parents came over to visit our apartment for the first time on Saturday, and it was honestly a great time. After they headed home, we cobbled together some snacks, I got out some scorecards I'd saved from the Hoophall Classic dunk contest, and we passed our own judgments from the couch. As you might guess, we awarded very few 10's, and at some point she got tired of Chase Budinger and retired to bed.
I stayed up a bit longer finishing my beer and watching the rest of the contest. We'd had a great time posing as judges, even if the event was lousy. That doesn't mean it wouldn't be better for literally everyone if it were actually good — or at least decent. But the way I see it, you can either take perverse pleasure in not enjoying something, or you can just have a good time with it for the sake of doing so.
Don't get me wrong, I'll still caterwaul about the Knicks or whatever – often. There are still times when I slip back into that bottom line mentality, when I get caught up with negativity. But as I get older, I find it doesn't really matter who wins or even what game we watch when I get together with my friends of 20 years; it only matters that we get together.
I don't remember the judge's scorecards in last year's Froch-Johnson fight, but that it was Montana's first live boxing match? I'll never forget that.
And that's what I find about sports more and more: It's become less for me about dwelling on what actually happens, while becoming far more about the experiences I have and who I share them with.
At least to me, that's far better than complaining about LeBron not doing the Dunk Contest.