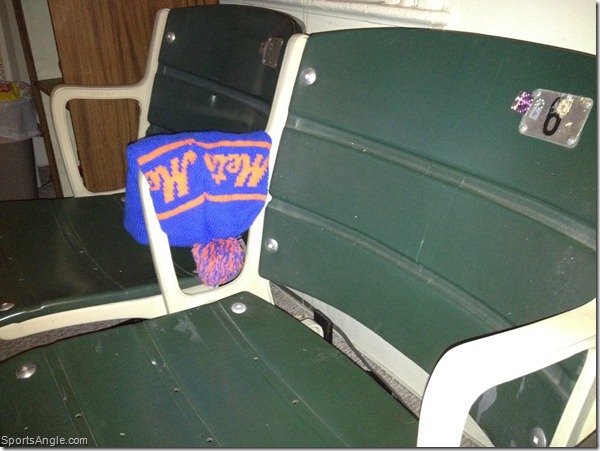 I don't remember all that much about life as a fifth grader — I recall being infatuated with G.I. Joe action figures, the Mets and the original Legend of Zelda, but that's about it. And yet, so much about my first game at Shea Stadium remains totally fresh in my mind.
In April 1989, having never actually watched sports, I randomly turned on a Mets-Cardinals game and at that moment, Darryl Strawberry hit a home run. I watched the rest of the game, and I was mesmerized even though they lost. My uncle Jake got tickets to a game at Shea against the Expos in late September, and I looked forward to it all summer.
We went on ski cap day, which came in handy when the temperature dropped precipitously over the course of the afternoon. Our seats were in the upper deck, but Jake slipped an usher $20 to get us into the mezzanine.
Here's the box score, but I mostly don't need it: Darryl had the day off. The much-maligned Gregg Jefferies hit a leadoff home run, though once and future Met Hubie Brooks hit a grand slam off Frank Viola. But Tim Teufel (!) and Mark Carreon (!!) went deep and my first game at Shea went down in the books as a 13-6 victory.
The Mets finished the day 5 ½ games out with eight to play, which I did know at the time, but it didn't matter to me in the least. To me, games at Shea had previously been untouchable, this mythical world that had only existed on television and in newspapers. Without really having done anything but show up, I felt like the king of the world.
*****
I vaguely remember sort of what everything looked like, Jefferies' homer and all that. But the image that remains clear in my mind was in the sixth inning, after the Mets had stormed back to take an 8-6 lead and loaded 'em up for Gary Carter.
Carter hit a soft fly ball to left-center that dropped in. It cleared the bases, and he ended up on second base with five RBIs. They put "GARY" up on the big videoboard, and I chanted his first name along with the crowd while he beamed out at us. The ovation seemed to last forever; it was wonderful.
It was also his last great Mets moment as a player. Carter batted .183 in 50 games in 1989, had one more hit the rest of the season and was released in the winter.
But I'd always read about how great Kid had been: The homer to win his first game as a Met, how he made the whole Mookie-Buckner miracle possible by getting a hit to start the rally. All those guys were larger than life to me: Darryl, Doc, Keith, Frankie V — even the Iguana Man, Julio Machado. (Basically, everyone but Juan Samuel.)
It didn't matter to me that Gary had 28 hits all season or that the Mets weren't a playoff team. None of it changed that he stumbled into one of my favorite and most vivid memories of my childhood.
When I heard Gary was sick, I felt terrible for his pain and for his family — 57 years on this earth isn't nearly enough. But from all accounts, he lived his life to the fullest. And when I think about how loved he must have felt on that chilly day at Shea, I can only hope that albeit for very different reasons, he remembered it as fondly as I do.
*****
Three years after he took me to my first game, Jake died when I was in eighth grade. He loved to ride his bicycle, and he was doing that during a vacation in the Hamptons when someone fell asleep at the wheel and hit him. It was just one of those things, a freak accident, and it was just so tough on all of us, especially my mom. (They were twins.)
I've never met anyone like Jake who had such a passion for life. He marched to his own drummer, to be sure — I seem to recall he showed up late for my Bar Mitzvah for some reason — but nobody could ever get mad at him. I used to love hanging out in his bedroom when we'd visit my grandmother in New York; Jake always smoked a pipe in there, and I came to adore that scent.
And Jake just loved me so much. For a short Jewish guy, Jake was a really good basketball player. My mom told me he was always picked early on the playground, high praise in the City, and he was the one who taught me how to play. He loved showing me new experiences; he took me to my first classical concert at Carnegie Hall. It wasn't really my thing, but it felt really good being there with him.
Jake always talked about wanting to bring me to my first Knicks game, and I picked up the team in his honor. (For the record, his favorite player was Walt Frazier, and I think he would have gone nuts over Jeremy Lin.) When I was at Duke, my dad and I would talk all the time about how Jake would have loved to come down for games.
I've wanted to write about Jake for some time, just never found the right time or the right words. Twenty years after he died, I still miss Jake very much. There was just so much we never got to do, and I would have wanted him to know me as I am now.
But he died doing something he loved. And he lived such a wonderful life, albeit one way too short.
*****
When they knocked down Shea and put stadium seats on sale a few years back, I wanted to get a pair, but the $869 price tag just seemed like a lot. But last year, they started showing up on eBay for $300 less than that — still a lot, but not $869.
After explaining the situation to my fiance to make sure she didn't think I had completely lost it to blow half a month's rent on this, I bought a pair of green mezzanine seats. They're almost definitely not the same seats Jake and I sat in, but they're at least from the same section, and I spend some time in them every day.
When Gary Carter died, I saw lots of people talking about what he meant to them in the context of their lives; this very good post, by Ted Berg, hit home with me for obvious reasons. As I get older and realize there's far more to life than sports, that's what I'm starting to take with me — not the wins and losses, not the home runs and strikeouts, but what things were like for me when it all happened.
Gary's final Mets hurrah came in a relatively meaningless game in a relatively meaningless season. But it also was a big part of my fondest memory of my uncle next to the day he taught me to play basketball, and I've thought a whole lot about Jake this week as a result of his passing.
I think that's the best eulogy for Gary Carter I can ever hope to offer.