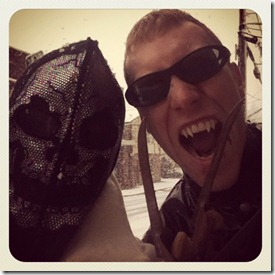 I haven't had a ton of time to write lately because of the World Series, and some stuff I've done for Dime Magazine with Kyrie Irving and Penny Hardaway.  Expect some more next week, I have a couple of ideas I've wanted to put out there.
But for now, I'm enjoying the Halloween weekend. If you've been a longtime reader of this site, you know I like everything about the holiday – the movies, the decorations, all of it. It's basically the only holiday I truly like, though New Year's isn't that bad and I'm very slowly warming up to Christmas.
My belief is that you're never too old for Halloween; I'd better believe that, since I'm now 32. But for a few days a year, I think it's cool to embrace your weirdness and just enjoy the creepiness of this time of year. I don't get into the whole party thing – I think about 98 percent of the people I see with their drunken nonsense in New York City are pathetic. I enjoy the holiday in other ways; snowed in today, I indulged in a double-feature of Death Proof and Drag Me To Hell.